---
THE PURPOSE AND POWER OF CHRIST RESURRECTION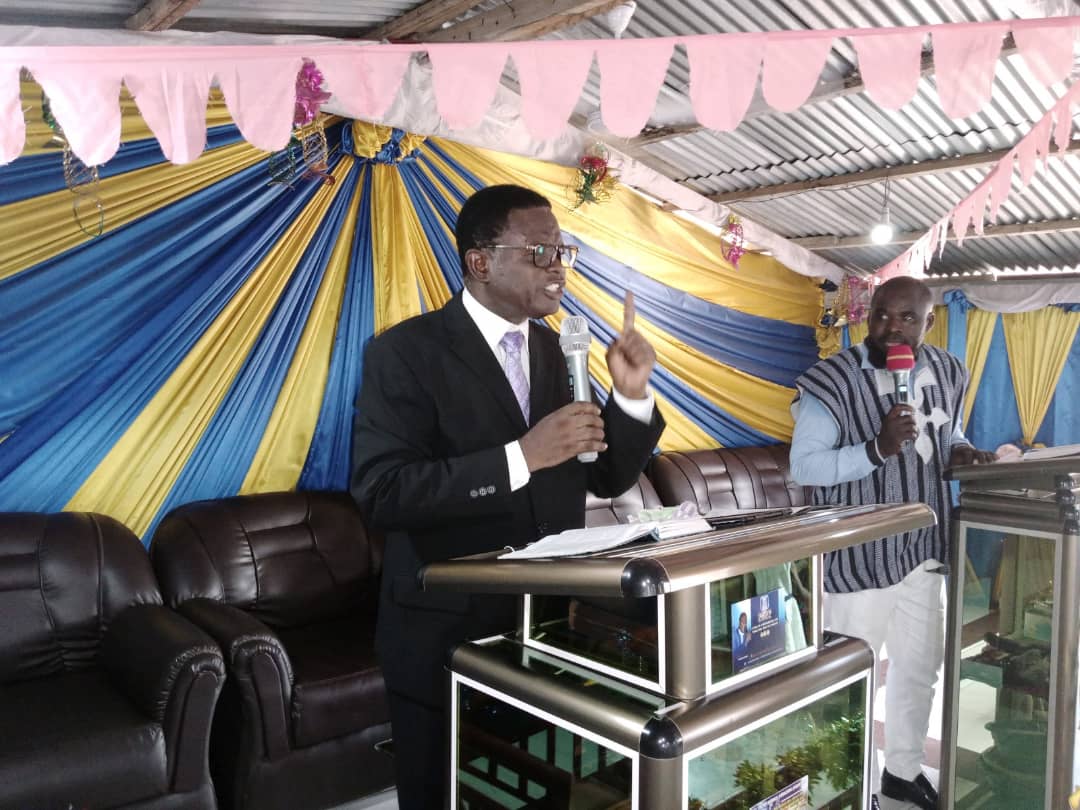 Scriptural Texts: 1Corinthians 15:17-19, Philippians 3: 4-11
1Corinthians 15:17-19
17 And if Christ be not raised, your faith [is] vain; ye are yet in your sins. 18 Then they also which are fallen asleep in Christ are perished. 19 If in this life only we have hope in Christ, we are of all men most miserable. 20 But now is Christ risen from the dead, [and] become the firstfruits of them that slept. 21 For since by man [came] death, by man [came] also the resurrection of the dead. 22 For as in Adam all die, even so in Christ shall all be made alive.
Philippians 3: 4-11
4 Though I might also have confidence in the flesh. If any other man thinketh that he hath whereof he might trust in the flesh, I more: 5 Circumcised the eighth day, of the stock of Israel, [of] the tribe of Benjamin, an Hebrew of the Hebrews; as touching the law, a Pharisee; 6 Concerning zeal, persecuting the church; touching the righteousness which is in the law, blameless. 7 But what things were gain to me, those I counted loss for Christ. 8 Yea doubtless, and I count all things [but] loss for the excellency of the knowledge of Christ Jesus my Lord: for whom I have suffered the loss of all things, and do count them [but] dung, that I may win Christ, 9 And be found in him, not having mine own righteousness, which is of the law, but that which is through the faith of Christ, the righteousness which is of God by faith: 10 That I may know him, and the power of his resurrection, and the fellowship of his sufferings, being made conformable unto his death; 11 If by any means I might attain unto the resurrection of the dead.
1.INTRODUCTION
There is a purpose for which Christ rose from the dead, and there is a power made available to us through His resurrection. We need to know both the purpose and the power available for us to enjoy full maximally our relationship with God with the accompanying benefits in this world and in the world to come. "I want to know Christ. I want to know the power of his resurrection." This is Paul's primary desire; this is what Paul wants more than anything else in this life: To know the living, the resurrected Christ Jesus, and to know the power associated with that resurrection.
Furthermore, if he is not raised from the dead, then he has no power today. He is dead. His words might have some influence but he himself has no power. This is why the resurrection is so central to Christians: Christianity is not a religion based on abstract principles. Christianity is a relationship with a living Savior, a Savior we can know, a Savior who infuses our life and empowers us, who transforms us into his likeness. But what does Paul mean when he says he wants to know Christ? And what is this power of his resurrection?
2. I MAY KNOW 'CHRIST' HIM
The most important question, we may ask? what does "knowing Christ" mean? Let us first consider whether or not this desire belongs to Paul alone. Is Paul stating a personal preference, or a truth that is central for all Christians? Jeremiah 9:23, 24 says knowing God is more important than wisdom, or strength, or riches. Think about the people who are most admired in this world. They are admired for these three qualities, aren't they? We tend to admire those who are bright, intelligent, and knowledgeable; or those who are physically gifted in strength, talent, or beauty; or those who have amassed great wealth.
But the Lord says through Jeremiah that none of those are of great importance. What matters more than anything else is understanding and knowing the Lord, the covenant God who delights in kindness, justice, and righteousness.  And this prominence of knowing God carries over into the gospels. Jesus himself, on the night prior to his death prays for his followers, saying: Now this is eternal life: that they may know you, the only true God, and Jesus Christ, whom you have sent. (John 17:3)  Eternal life is what? Knowing God, knowing Jesus! Without knowing him, there is no true life. Peter also emphasizes this point: His divine power has given us everything we need for life and godliness through our knowledge of him who called us by his own glory and goodness. (2 Peter 1:3)  Our knowledge of him leads to his empowering us with everything we need for life and godliness.
John makes a similar point near the close of his first letter: We know also that the Son of God has come and has given us understanding, so that we may know him who is true. And we are in him who is true even in his Son Jesus Christ. He is the true God and eternal life. (1 John 5:20)  John says that Jesus came so that we might know him. The purpose of the incarnation was our knowing him. This is central to the gospel we preach and teach all men, everywhere and anywhere in all nations.
So Old Testament, New Testament, gospels, letters, Paul, Peter, and John all agreed that knowing God, knowing Jesus, is central. But what does knowing God mean? We get to know a person in part by being in his physical presence. But how do we get to know Jesus? Surely knowing God also is much more than knowing facts about God. How can we come into this deep, personal relationship with God?
3. HOW DO I KNOW GOD?
First, surely we must know about him. So we do indeed need to learn about God. How do we do this? In reality, by listening to faithful preachers of God's word, by regular reading and studying of the Bible yourself and by witnessing the impact of God on the lives of others. Secondly, we must go beyond learning facts. We must cultivate our own relationship with him. Let us consider three steps to cultivating a relationship with Him:
a. Firstly, putting your faith in him: believing that He is the Son of God, believing that the event of Easter we celebrate yearly, that is the resurrection of Christ, really did take place, and wanting Him to make you and me into a new creation.
b. Secondly, is spending time in prayer. Pray alone, and with others. In prayer, you can share all your joys, frustrations, and sorrows with the God of the universe, the God who cares. Talking to God builds your relationship with him in an intimate manner.
c. Thirdly, is following Him whole heartily. Listen as you pray and read the Bible. Be willing to follow, even when his commands don't seem to make sense. Depend on God when his requirements seem unreasonable. When you do this, when you step out in faith. He will be there to support you, and you will see Jesus as a living, risen Savior.
4. KNOWING THE POWER OF THE RESURRECTION
The second desire of Paul's is "to know … the power of his resurrection." Note that Paul does not ask God for more power. Instead, he asks God that he might know Christ resurrection power. Paul's prayer for the Ephesians reveals his intent. In chapter 1 of that letter, he prays that the Ephesians might know three things. The third is: "his incomparably great power for us who believe . . . which he exerted in Christ when he raised him from the dead" (Ephesians 1:18,20) All Christians have this power; all Christians have access to this incomparably great power, this resurrection power. Our task is to tap into it. Let us consider five aspects of this power.
a. Power to Have Sins Forgiven
Sin has a hold on all of us. Without God, we are slaves to sin. But Christ, through his death and resurrection, frees us from the dominion of sin. He was delivered over to death because of our sins, and raised to life because of our justification (Rom 4:25) Christ died as the necessary sacrifice for our sins. But his being raised to life, his resurrection is absolutely vital! As Paul says, he was "raised to life because of our justification."
When Jesus died, God laid on him the iniquity of us all, the punishment that all of us deserve for all our sins. Had there been anything lacking in Jesus' sacrifice, if his blood had lacked the power to cancel the penalty for anyone's sin, God could not have raised him from dead. In that case, God's justice would not have allowed him to raise Jesus from the dead. But the very fact of the resurrection shows once and for all that Jesus' sacrifice is all that is necessary to pay the penalty for my sin, for yours and for all.
Whenever Satan accuses us, saying, "God could never forgive you for what you have done, think how terrible you are!" — We can say, "Jesus rose from the dead! Jesus rose from the dead because I am justified; having believed in Jesus, I am righteous in God's eyes." That is the power of the resurrection.
b. Power to Conquer Sin in our lives
But resurrection power doesn't end with our forgiveness. Christ's resurrection also empowers us to conquer sin in our lives. "put on the new self, created to be like God in true righteousness and holiness". (Ephesians 4:24) In Christ we are a new creation; his Spirit lives within us. We have been renewed, we have a new self and the purpose of that new self is to be conformed to the image of Christ, to become like him: truly righteous, truly holy and to become what God intends us humans as we are to be! So if this is the case, why do Christians keep on sinning? Paul gives us the answer in Philippians: we don't know the power!
We have all this power, but we continue to act as if we are weak, as if we are still slaves to sin. Satan tries to deceive us, making us think we are still his and he uses habits ingrained in us over years to make us believe him. God gives us the power to break those habits, but we must first know we have the power! That is why Paul has such a strong desire for this knowledge.
c. Power to Be God's Agent of Change
But Christianity is not just about forgiveness and overcoming sin. Christianity is not simply a solution to our problems. God has a good purpose in our salvation. He has determined that we are to be his agents of change in the world. God empowers us not only to defeat sin but also to share and display his loving message to the world. Jesus says, "You are the light of the world." Paul says, He has committed to us the message of reconciliation. We are therefore Christ's ambassadors, as though God were making his appeal through us. (2 Corinthians 5:19, 20) my power is made perfect in weakness (2 Corinthians 12:9). That is the idea. God shows his power by working through us, by working mightily through us, even though we are weak and unworthy.
d. Power to Be Conformed to Christ Likeness
Finally, God's purpose is revealed. The power of Christ resurrection greatest accomplishment is conforming us to the likeness of Christ. We are forgiven for our sins, enabled not to sin, appointed as ambassadors and perfected in His love. Paul says we: "are being transformed into his likeness with ever-increasing glory, which comes from the Lord, who is the Spirit". (2Cor 3:18)
Into his likeness! Can you imagine what that means? Think of everything about yourself that you don't like, all the habits, all the negative characteristics, the things you have wanted to change, or have tried to change and unable to change. God will deal with every one of those. You are being made into a perfect creation; you are becoming like Jesus in his image and likeness! That is your destiny as a Christian or the Church, becoming the perfect bride of Christ, spotless, blameless, loving, kind, strong, and transformed into his likeness. The power of the resurrection now works in me and in you!
e. Power to Overcome the Devil, his agents and his Kingdom
It was through His death and resurrection that Jesus was given a name above every other name, and this means a power above every power. Phil 2:5-11. Jesus gave us this power to tread upon serpents and scorpions and over all the power of the devil. The truth is this, knowing and having this power at work in us will make us exercise our rightful authority over the powers of darkness and we will not be afraid of them because in Jesus Name there is power.
5. CONCLUSION
So the fact of the resurrection is central to true Christianity. The resurrection must be true if we are to know and to have intimate relationship with our Savior, Jesus Christ.  The resurrection must be true if we are to have access to the power which raised Jesus Christ from the dead. Power to; Be forgiven from sin, overcome sin, be God's ambassadors, to be conformed to Christ's likeness and to overcome Satan, his agents and his kingdom
Recent Sermons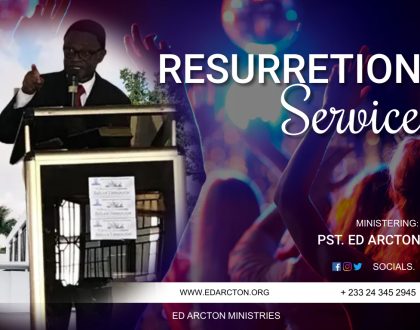 April 11, 2023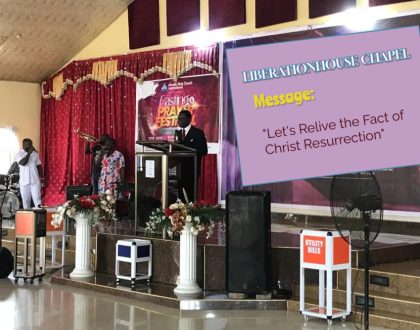 April 11, 2023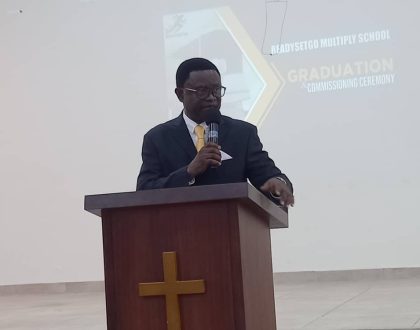 October 09, 2022