---
SATAN EYES ON YOU
Sermon Preached at First Fruits Pentecostal Church – Mamponteng, Kumasi – Ghana
Be sober, be vigilant; because your adversary the devil, as a roaring lion, walketh about, seeking whom he may devour – (I Peter 5:8) 
The Devil will take every opportunity he can to get to you. He loves it when Christians like to ignore the fact that he can hurt you. If we keep our head in the sand we will not survive. His plan for you is to isolate you, discourage you, disarm you and leave you powerless and defeated.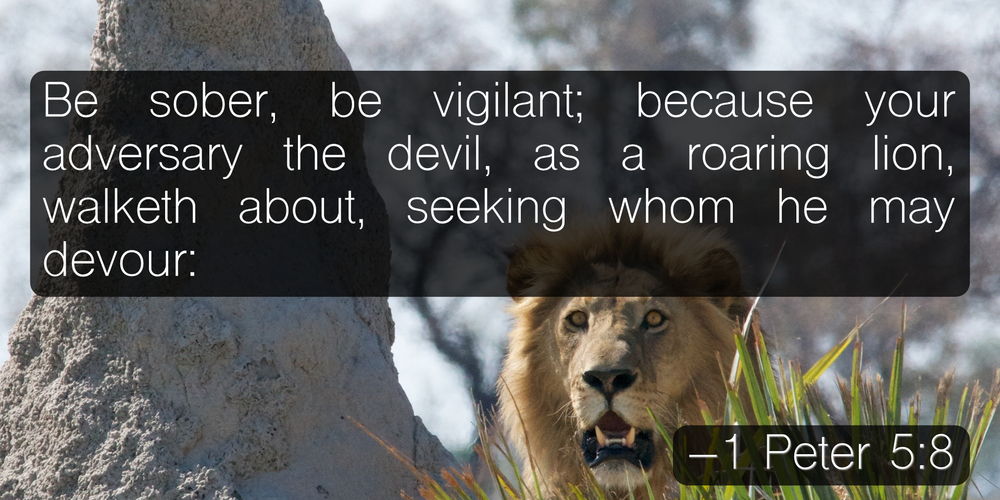 SATAN COMES TO STEAL
(John 10:10) Mark 4:14-15
The thief cometh not, but for to steal, and to kill, and to destroy: I am come that they might have life, and that they might have [it] more abundantly.
Mark 4:14-15 – The sower soweth the word.  And these are they by the way side, where the word is sown; but when they have heard, Satan cometh immediately, and taketh away the word that was sown in their hearts.
The first thing that Satan will steal from you is God's word. The Devil knows the power of God's Word better than most Christians. He knows it is the source of God's wisdom whether spoken, read, taught or lived out; the word of God has power for the Christian to fight the Devil. Ephesians 6:12-17 –
12 For we wrestle not against flesh and blood, but against principalities, against powers, against the rulers of the darkness of this world, against spiritual wickedness in high [places]. 13 Wherefore take unto you the whole armour of God, that ye may be able to withstand in the evil day, and having done all, to stand. 14 Stand therefore, having your loins girt about with truth, and having on the breastplate of righteousness; 15  And your feet shod with the preparation of the gospel of peace; 16  Above all, taking the shield of faith, wherewith ye shall be able to quench all the fiery darts of the wicked. 17 And take the helmet of salvation, and the sword of the Spirit, which is the word of God: 18 Praying always with all prayer and supplication in the Spirit, and watching thereunto with all perseverance and supplication for all saints;
Hebrew 4:12 13 – For the word of God [is] quick, and powerful, and sharper than any twoedged sword, piercing even to the dividing asunder of soul and spirit, and of the joints and marrow, and [is] a discerner of the thoughts and intents of the heart. Neither is there any creature that is not manifest in his sight: but all things [are] naked and opened unto the eyes of him with whom we have to do.
The next thing he will steal is your steadfastness. He will use confusion, false teachers, deception, deceit, lying and twisting the truth of God's word to get you to believe a lie. Matthew 14:31 – And immediately Jesus stretched forth [his] hand, and caught him, and said unto him, O thou of little faith, wherefore didst thou doubt?
The Devil will try to steal your faith through bad experiences. He will use family, friends, your job, the weather or anything he can use to get you to doubt God's word.
 Philippians 4:6-7 says "Be careful for nothing; but in every thing by prayer and supplication with thanksgiving let your requests be made known unto God. And the peace of God, which passeth all understanding, shall keep your hearts and minds through Christ Jesus".
Satan will try and steal your peace from you. Satan tries to confuse us and put doubt in our mind. He then tries to put fear in our hearts by not trusting God. He tries to steal our peace from God by luring, tempting and trapping us in our own personal weaknesses.
SATAN COMES TO KILL
(John 10:10) II Corinthians 9:1-2
The thief cometh not, but for to steal, and to kill, and to destroy: I am come that they might have life, and that they might have [it] more abundantly.
Satan wants to kill the zeal that believers have for God and God's people. He will use his demons to do everything possible to stop you from being zealous in your Christian walk. He will use your family, your health, gossip and lies and even try to kill you or your family if needed.
I Thessalonians 1:7-8 So that ye were ensamples to all that believe in Macedonia and Achaia. For from you sounded out the word of the Lord not only in Macedonia and Achaia, but also in every place your faith to God-ward is spread abroad; so that we need not to speak any thing.
The Devil hates believers who have a positive influence over others and will try to discourage and do harm to the character of believers who have positive influence.
SATAN COMES TO DESTROY
(John 10:10) Ephesians 4:27
The thief cometh not, but for to steal, and to kill, and to destroy: I am come that they might have life, and that they might have [it] more abundantly.
Ephesians 4:27 – Be ye angry, and sin not: let not the sun go down upon your wrath:
   27 Neither give place to the devil.
1 Peter 5:8-9 – Peter has warned us that Satan is roaming around trying to find a believer to devour. When the Devil finds out you are vulnerable he will not let up until he destroys your testimony.
2 Timothy 4:9-10, says "Do thy diligence to come shortly unto me: 10 For Demas hath forsaken me, having loved this present world, and is departed unto Thessalonica; Crescens to Galatia, Titus unto Dalmatia".
When the Devil finds your weakness he will come after you without regard for anything. He will not stop until he destroys your ability to serve God again. Satan has his ministers everywhere to confuse believers and cause them to be ineffective and poor witnesses for Christ. Satan will destroy your confidence unless you are wise.
In 2 Corinthians 11:15 scriptures says 13 For such [are] false apostles, deceitful workers, transforming themselves into the apostles of Christ. 14 And no marvel; for Satan himself is transformed into an angel of light. 15 Therefore [it is] no great thing if his ministers also be transformed as the ministers of righteousness; whose end shall be according to their works.
 BECAREFUL TO STAY SAFE AND BE ALET
(1) Matthew 15:8-9 – This people draweth nigh unto me with their mouth, and honoureth me with [their] lips; but their heart is far from me. But in vain they do worship me, teaching [for] doctrines the commandments of men.
Don't be a follower of tradition, be a follower of God's word. Most people in the religious world are following a man, a priest, a religion, a church, a family tradition. Who are you following and whom are you obeying and worshipping.
(2) Acts 17:10-11- And the brethren immediately sent away Paul and Silas by night unto Berea: who coming [thither] went into the synagogue of the Jews. 11 These were more noble than those in Thessalonica, in that they received the word with all readiness of mind, and searched the scriptures daily, whether those things were so.
Arm yourself with bible knowledge and discernment. Religious people with little or no bible knowledge are sitting ducks for false teachers and preachers who prey on the weak.
(3) II Peter 2:1-3 – But there were false prophets also among the people, even as there shall be false teachers among you, who privily shall bring in damnable heresies, even denying the Lord that bought them, and bring upon themselves swift destruction. 2 And many shall follow their pernicious ways; by reason of whom the way of truth shall be evil spoken of. 3 And through covetousness shall they with feigned words make merchandise of you: whose judgment now of a long time lingereth not, and their damnation slumbereth not.
Don't be complacent. False teachers prey on self-satisfied, unsuspecting individuals who don't have a sense of urgency regarding their eternal destiny.
(4) II Timothy 2:15 – Study to shew thyself approved unto God, a workman that needeth not to be ashamed, rightly dividing the word of truth.
Know bible doctrine. False teachers use a little bible to create false doctrine.
(5) I John 4: 1, 5-6 – Beloved, believe not every spirit, but try the spirits whether they are of God: because many false prophets are gone out into the world. 5. They are of the world: therefore speak they of the world, and the world heareth them. 6 We are of God: he that knoweth God heareth us; he that is not of God heareth not us. Hereby know we the spirit of truth, and the spirit of error.
CONCLUTION
Dearly beloved, don't believe everything you hear, see and feel. The Holy Spirit bears witness of the truth. Seek to know the truth of God, be determine to walk and live by the truth which the Word of God, the truth delivers us from the grip of the devil.
Recent Sermons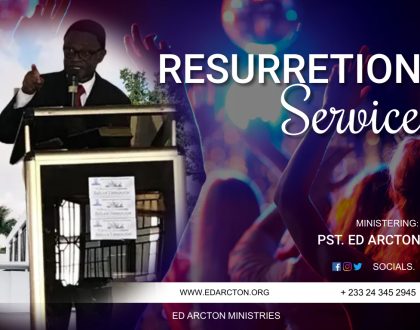 April 11, 2023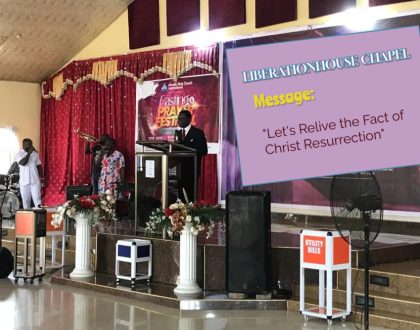 April 11, 2023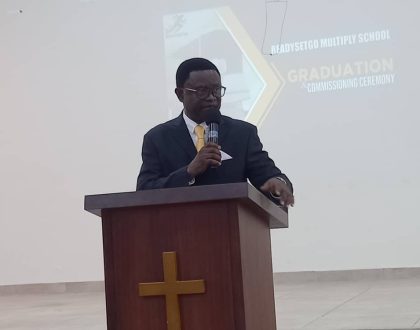 October 09, 2022