---
Power of Prayer Can Change Your Life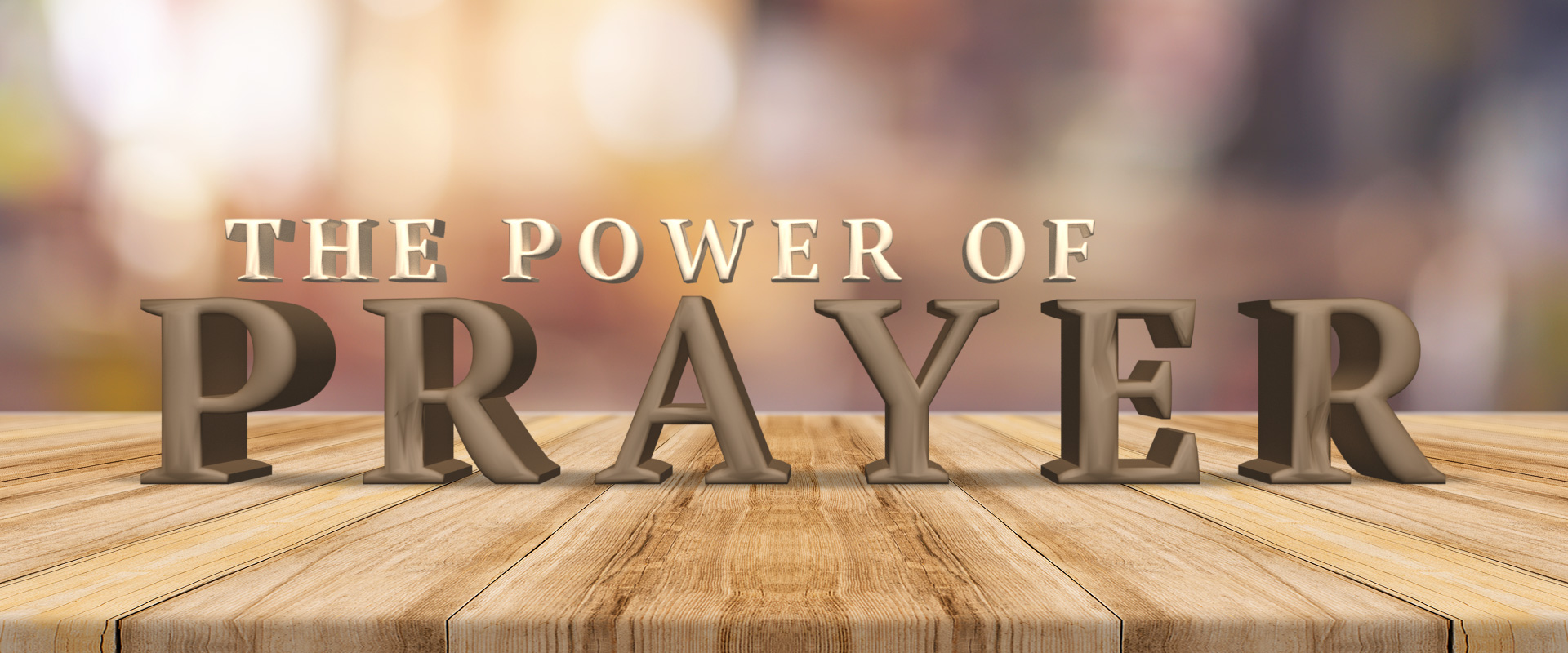 Jesus said, "But when ye pray, use not vain repetitions, as the heathen do, for they think that they shall be heard for their much speaking." (Matthew 6:7)
THE AWESOME POWER OF PRAYER
"Watch and pray, that ye enter not into temptation: the spirit indeed is willing, but the flesh is weak." (Matthew 26:41)
I have been driven many times to my knees by the overwhelming conviction that I had nowhere else to go."  – Abraham Lincoln
WHY IS PRAYER SO IMPORTANT?
Prayer is the natural outcry from the heart of a human being to his Maker in response to the tug of the Word of God, implanted within the conscience.
That tug is even stronger in the heart of one who has had a visitation of the Holy Spirit's convicting presence or has heard the gospel message!  The Holy Spirit's call to prayer becomes as natural and desirous as the call for food at mealtime!
"Ask and it shall be given you; seek, and ye shall find; knock, and it shall be opened unto you: For everyone that asketh receiveth; and he that seeketh findeth; and to him that knocked it shall be opened." (Matthew 7:7-8)
PRAYER IS OUR INNER MAN CRYING OUT FOR FELLOWSHIP WITH GOD
Prayer is our inner man crying out for help, fellowship and spiritual nourishment! It is born out of our need and the assurance that God is there to meet that need and answer our prayer.
PRAYER IS COMMUNING WITH THE LORD
Prayer is talking, listening and communing with our Maker as we enter into the very presence of Almighty God.  It is intimate fellowship on a "one-to-one basis" with God, through Jesus Christ our Lord.
WHEN WE PRAY, OUR TOTAL MIND, BODY & SPIRIT BECOMES INVOLVED
Our spirit cries out in response to our needs and those of others, as God plays on our heart strings, encouraging us to share those burdens with Him.
Our minds stagger under the weight of sin, fear, worry and care and our spirits soar both to heights unknown as well as plumb to incomprehensible depths.
We groan in the spirit of intercession or exult in the joy of God, knowing that He is taking control of the situation! And that by our compassion, care and faith people in need are being convicted, strengthened, healed and blessed.
As we weep in travail our eyes redden, our physical strength is taxed and our body becomes weary! Then the Holy Spirit takes over and intercedes through us with groanings that cannot be uttered, and we enter into a new realm as we pray in the Spirit (unknown tongues), as Apostle Paul did. (1 Corinthians 14:15)
The Divine Paraclete (the Comforter – the One sent alongside to help) helps us as we do not know how we ought to pray. But He comes to our rescue and prays through us to the Father.
The entire Trinity is involved in our fellowship, as we pray to God our Father in the name of Jesus Christ our Lord.
PRAYER CONNECTS US TO ALMIGHTY GOD
Prayer is mankind's most vital connection or link with Almighty LORD God. It is, in fact, entering into His very presence with our confession, requests, petitions and thanksgiving.
The scripture says, He is closer than our hands or feet. It is therefore, not difficult to draw upon His power by reaching out in prayer and touching Him.
WHEN WE PRAY, GOD NOT ONLY LISTENS TO US, BUT GOD SPEAKS TO OUR SPIRITS SO WE CAN HEAR HIM.
When we pray, God not only listens but speaks to our spirits and answers our requests in His own way, according to His divine and gracious will.
The woman with the "issue of blood" touched Him with her faith and received an instant miracle. Jesus turned about in the crowd and asked specifically, "Who touched My clothes"?
Many rubbed shoulders with Him, but one person touched Him by faith. She had said within herself, "If I but touch His garment, I shall be whole." She was made whole, and Jesus declared that her faith had gotten the job done! (Matthew 9:21)
God's Word says: "And it shall come to pass that, before they call, I will answer; and while they are yet speaking, I will hear." (Isaiah 65:24).
'Prayer is talking, listening and communing with God as we enter into the very presence of the Almighty Father!'
The 20th Century Bible renders the account this way: Jesus said, "Someone has touched Me". And they said, "Master, the multitudes press Thee and crush Thee". But He answered, "No, someone has made a demand upon My ability".
When we believe and reach out for a miracle, we make a demand upon His ability and draw from His great storehouse of blessing, that which we desire!  Another beautiful aspect is that the woman received the miracle without Jesus knowing she had a need. The miracle was already accomplished before Jesus was aware of it.
PRAYER CAN COMPLETELY CHANGE YOUR
LIFE AND OTHER'S LIVES.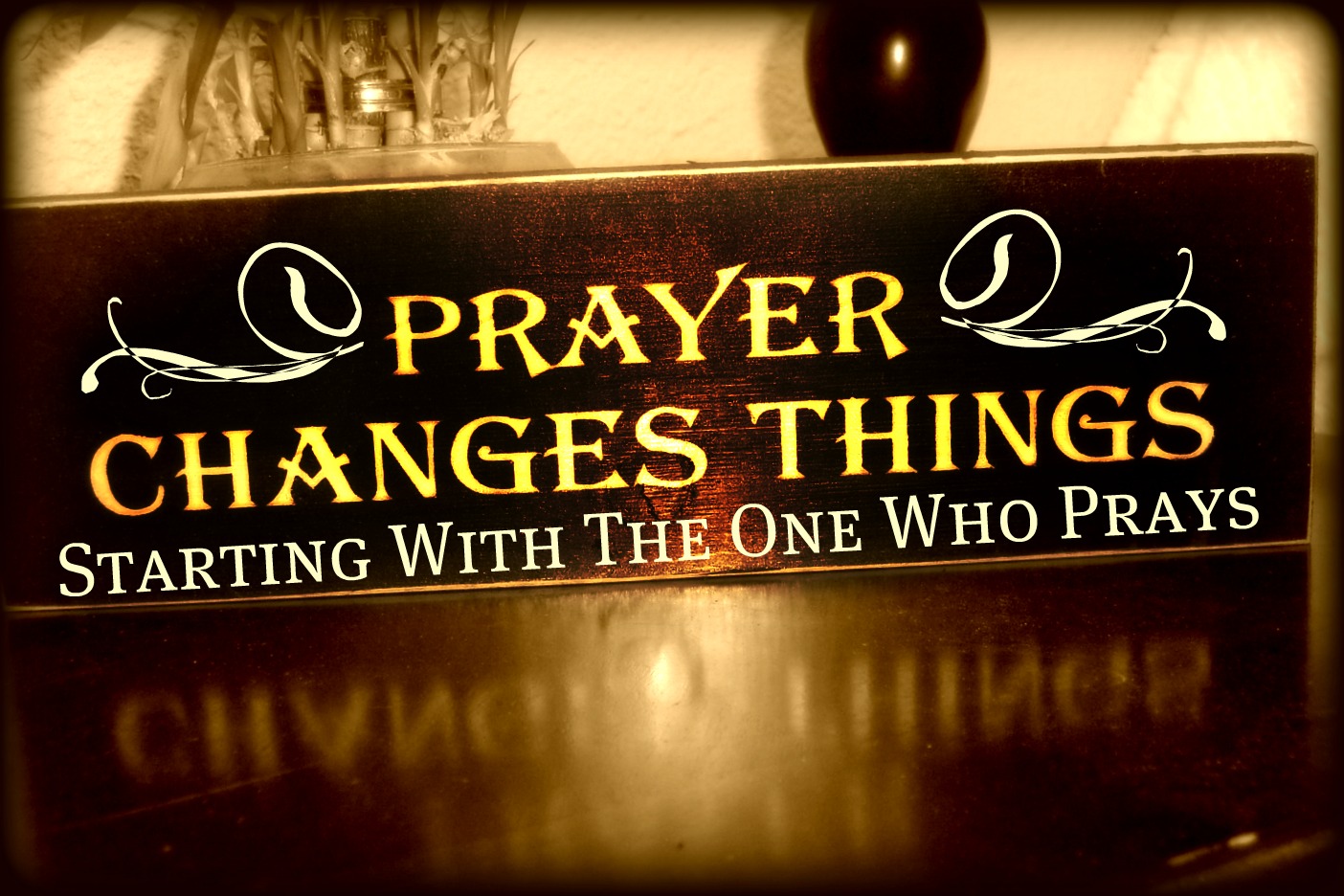 The Psalmist prayed: "Let the words of my mouth and the meditation of my heart be acceptable in Thy sight, O Lord, my Strength and my Redeemer.  Thou hast heard the desire of the humble." (Psalms 19:14; Psalms 10:17)'
PRAYER NOT ONLY CHANGES THINGS; IT CHANGES LIVES. PRAYER CAN CHANGE YOU.
The easiest way for me to illustrate God's provision for us, is to compare it to a buffet banquet. Many tables loaded with the best foods sits in the middle of the room and guests help themselves at will. The host simply walks among his friends to see if everyone is getting enough to eat, while the servers keep loading the tables with fresh supplies.
The host is not really concerned whether you make one or three trips to the tables, so long as you get enough to eat. He doesn't watch to see if you take one leg of chicken or two.
AS BELIEVERS, WE HAVE AVAILABLE TO US:  FORGIVENESS, HEALING, BLESSING & PROSPERITY
Forgiveness, healing, blessing and prosperity are all provided for us. We can have all we need! All we have to do is reach out by faith and make a demand on His ability, by receiving.  Automatically, when we tap into His resources by faith in His finished work on Golgotha, the miracle happens.
PRAYER CHANGE THINGS FOR THE BETTER
Prayer changes things! Many situations have been altered, lives changed and priorities rearranged by spending time in prayer.
Why is this? God answers prayer! God performs miracles! He is real, and communion with Him is a glorious reality! God does answer prayer.
Through prayer and communion with God we can affect the course of this world and change the complexion of society.
Not only does prayer change things but it changes people. The lives of the ones prayed for as well as the persons praying. Thousands of answers to prayer are recorded regularly in the books of heaven, as well as in the remembrances of committed Christians.
Miracles of salvation, healing, preservation, deliverance and prosperity are common occurrences for those who really believe God's Word and appropriate His promises for themselves.
PRAYER CAN CHANGE YOUR ATTITUDE AND GIVE
YOU A NEW OUTLOOK ON LIFE
A person gets a totally new outlook on life when he spends time in God's presence. His priorities change as well as his desires and goals in life. And his disposition becomes kinder and more caring.
The hymn writer penned these words which have blessed millions down through the years.
"Sweet hour of prayer, sweet hour of prayer
That calls me from a world of care
And sets me at my Father's throne,
Makes all my wants and wishes known.
In seasons of distress and grief,
My soul has often found relief
And oft escaped the tempter's snare,
By thy return, sweet hour of prayer."
THE TWIN PILLARS OF THE CHRISTIAN CHURCH ARE REPENTANCE & FAITH
Apostle Paul makes it very clear as to what the twin pillars of the Christian Church are.  The twin pillars of the Christian Church are REPENTANCE and FAITH. Apostle Paul makes that very plain: "Testifying both to the Jews, and also to the Greeks, repentance toward God, and faith toward our Lord Jesus Christ." (Acts 20:21)
Writing to new converts he said: "For by grace (God's unmerited favor) are ye saved through faith; and that not of yourselves: it is the gift of God. Not of works, lest any man should boast". (Ephesians 2:8-9)
YOU MUST HAVE FAITH TO BELIEVE IN JESUS CHRIST AND TO RECEIVE HIM INTO YOUR LIFE.
To believe in Jesus Christ and receive Him into your life is to have faith! Faith is a fact but faith is also an act, because faith requires corresponding action.
The Bible says, "For God so loved the world that He gave His only begotten Son, that whosoever believeth in Him should not perish, but have everlasting life." (John 3:16)
When you have faith in God, you will believe the Gospel of Jesus Christ and dedicate your life in His service! Real faith transforms a person's lifestyle, because faith in God works miracles in people.
"Therefore if any man be in Christ, he is a new creation: old things are passed away; behold, all things are become new." (2 Corinthians 5:17)
HOW DO WE RECEIVE FAITH?
According to the Holy Scriptures, God has given each one of us faith to believe in Jesus Christ, His Son and be saved: "…think soberly, according as God hath dealt to every man the measure of faith." (Romans 12:3)
He has placed His Word within our conscience and our spirit which came from God! (Romans 7:22-25)
THE BIBLE, IS THE WORD OF GOD CREATES FAITH
The Word of God also creates faith! "So then faith cometh by hearing, and hearing by the word of God." (Romans 10:17) God has called us to a life of faith and worship, through Jesus Christ His Son.
The Bible says, "Now faith is the substance of things hoped for, the evidence of things not seen. But without faith it is impossible to please Him; for he that cometh to God must believe that He is, and that He is a rewarder of them that diligently seek Him."  (Hebrews 11:1,6)
WHAT IS FAITH?  FAITH IS 3 VITAL THINGS:
1) Coming to God with our needs.
2) Believing that God exists and that He is Who the Bible says He is.
3) Expecting a miracle (an answer) when you pray
Faith is also a gift as well as a fruit of the Holy Spirit! "To another faith by the same Spirit; to another the gifts of healing by the same Spirit;" (1 Corinthians 12:9)
THE FRUIT OF THE SPIRIT IS LOVE, JOY, PEACE, LONGSUFFERING, GENTLENESS, GOODNESS & FAITH
"But the fruit of the Spirit is love, joy, peace, longsuffering, gentleness, goodness, faith," (Galatians 5:22)
GOD CALLS US TO SEPARATION
What does it mean when you say, "God calls us to separation"?
When we accept Jesus Christ as our LORD, to serve and live for Him, the LORD God sets us apart from non-believers through the divine process of redemption and the infilling of the Holy Spirit.
But God requires that we must separate ourselves totally and completely unto Him, in order that His miraculous provisions will work within us.
Jesus calls us to righteous, holy and pure living! The Bible says, "But as He which hath called you is holy, so be ye holy in all manner of conduct."  (1 Peter 1:15)
WHAT IS SANCTIFICATION?
Sanctification is the process by which believers are set apart for God and His service, to be made holy and purified from sin by His gifts and graces and our determined will to do that which is right.
We cannot do this in our own power. The Scripture says, "But of Him are ye in Christ Jesus, Who of God is made unto us wisdom, and righteousness and sanctification, and redemption." (1 Corinthians 1:30)
Apostle Paul admonished, "For this is the will of God, even your sanctification that ye should abstain from fornication: That every one of you should know how to possess his vessel in sanctification and honor."
"For God hath not called us unto uncleanness, but unto holiness." (1 Thessalonians 4:3, 4, 7)
GOD DESIRES HIS PEOPLE TO LEAD PURE, WHOLESOME LIVES – COMPLETELY SEPARATE FROM EVIL
The Bible clearly states that God desire His people to lead pure, wholesome lives – not like the pagan.  We must be separated from evil completely.  We must be separated from the evil practices of lying, witchcraft, hatred, gambling, idolatry, sodomy and adultery.  The Bible which is the Word of God teaches purity of though, word and deed.
WHEREFORE COME OUT FROM AMONG THEM, AND BE YE SEPARATE, SAITH THE LORD
Apostle Paul declared, "Wherefore come out from among them, and be ye separate, saith the Lord, and touch not the unclean thing; and I will receive you."  (2 Corinthians 6:17)
GOD PROMISES TO BE OUR FATHER, IF WE BELIEVE HIS WORD AND LIVE BY IT.
In His dealings with Israel, the Children of Israel, He demanded that they separate themselves from idols and the pagan practices of the heathen!
"But I say, that the things which the Gentiles sacrifice, they sacrifice to devils, and not to God: and I would not that ye should have fellowship with devils."  (1 Corinthians 10:20-21)
As Christians, we are followers of Jesus Christ and must not try to drag Him down to the filth in which the ungodly live, but allow Him to lift us to the place of purity and wholeness which He exemplifies.
JESUS CHRIST SAVES US FROM SINS, NOT TO LIVE IN OUR SINS
The Bible says, "If a man therefore purge himself from these (carnal, sinful & dishonorable pursuits) he shall be a vessel unto honor, sanctified, and meet for the Master's use, and prepared unto every good work. Flee also youthful lusts: but follow righteousness, faith, charity, peace, with them that call on the Lord out of a pure heart."  (2 Timothy 2:21-22)
Again God's Word states, "Having therefore these promises, dearly beloved, let us cleanse ourselves from all filthiness of the flesh and spirit, perfecting holiness in the fear of God." (2 Corinthians 7:1)
THE CALL TO DEDICATION
The word dedicate means to "set apart and consecrate to a divine being. To give wholly or earnestly to a patron, friend or purpose."   It is in this sense I now use this word. We should be willing to give ourselves wholly and earnestly unto the cause of righteousness, loving God and our fellowman!
THE BIBLE MAKES IT CLEAR THAT IF WE DO LIVE IN COMPLETE OBEDIENT UNTO HIM, GOD WILL BLESS AND PROSPER US
The Bible does not compromise. It is clear in its teachings that if we live and do certain things, God will bless and prosper us! And if we do not, there will be no blessing or prosperity.
Here is His clarion call to dedication:
"And be not conformed to this world: but be ye transformed by the renewing of your mind, that ye may prove what is that good, and acceptable, and perfect, will of God." (Romans 12:1-2)
This stern admonition was sent to former pagans, who had converted to Christ. Apostle Paul demanded that they break from evil, lustful and perverted deeds and live in purity as Christians!
There is no such thing as a Christian thief, a Christian liar, a Christian drunkard, a Christian drug addict, a Christian homosexual or a Christian fornicator.
When Christ comes into our hearts, the Holy Spirit does a work in us whereby we are liberated from the lusts and perversions of this wicked old world.
He admonishes Timothy and all of us: "but thou, O man of God, flee these things; and follow after righteousness, godliness, faith, love, patience, meekness. Fight the good fight of faith, lay hold on eternal life, whereunto thou art also called, and hast professed a good profession before many witnesses."
"I give thee charge in the sight of God, Who quickeneth all things, and before Christ Jesus, Who before Pontius Pilate witnessed a good confession; That thou keep this commandment without spot, unrebukeable, until the appearing of our Lord Jesus Christ:" (1 Timothy 6:11-14)
It is certainly a slap in our face, when Muslims and other non-Christians reject Christianity because of the lewd way in which our so-called Christian society conducts itself.
I hasten to say that the rock and roll music, loose living, pornography, abortion, alcoholism and perversion, which is so prevalent in our society, is in no way Christian! On the contrary, it is anathema!
It is sad to hear Muslim leaders saying that they do not want their people contaminated with "the abominable practices of sodomy, pornography, drug abuse, obscene rock and roll music and alcoholism, which are rife in our Christian culture!"
GOD CALLS US TO ABSTAIN FROM ALL APPEARANCES OF EVIL
The Bible says, "Dearly beloved, I beseech you as strangers and pilgrims, abstain from fleshly lusts, which war against the soul: Having your conversation honest among the Gentiles: that, whereas they speak against you as evildoers, they may see your good works, which they shall behold, glorify God in the day of visitation." (1 Peter 2:11-12)
We are instructed, "Abstain from all appearance of evil." (1 Thessalonians 5:22)
LET OUR LORD JESUS CHRIST ALWAYS BE OUR EXAMPLE, HE WAS PERFECT IN ALL RESPECTS
May Jesus Christ always be our example! He was perfect in all respects. SINLESS in deity and humanity, yet was obedient to the cross, suffering for our sin and shame, so that He could save us and bring us to God!
The Bible says, "Looking unto JESUS the author and finisher of our faith; Who for the joy that was set before him endured the cross, despising the shame, and is set down at the right hand of the throne of God."  (Hebrews 12:2)
Jesus, "…being in the form of God, thought it not robbery to be equal with God: But made Himself of no reputation, and took upon Him the form of a servant, and was made in the likeness of men: And being found in fashion as a man, He humbled Himself, and became obedient unto death, even the death of the cross". (Philippians 2:6-8)
Apostle Paul was totally dedicated: "I am debtor both to the Greeks, and to the Barbarians; both to the wise, and to the unwise. So, as much as in me is, I am ready to preach the gospel to you that are at Rome also. For I am not ashamed of the gospel of Christ: for it is the power of God unto salvation to every one that believeth; to the Jew first, and also to the Greek."  (Romans 1:14-16)
THE CALL TO CONSECRATION
Consecration is the act of obedience, when we privately and publicly make a statement that we have given ourselves in dedication for God's service!
In like manner, as we consecrate a church building or musical instruments to God's service, so we consecrate our bodies, talents and riches unto the cause of Christ and His Church!
CHRIST IS CALLING US TO CONSECRATE OURSELVES TO RIGHTEOUS LIVING AND EVANGELISM
Christ is calling us to give ourselves wholeheartedly to His cause. To CONSECRATE OURSELVES unto a life of righteous living and evangelism!  He is looking for those who will be totally committed to His gospel, so that His light may shine in this ungodly world.
The Bible says, "…let us lay aside every weight, and the sin which doth so easily beset us, and let us run with patience the race that is set before us." (Hebrews 12:1)
What does that mean to the liar, thief, adulterer, homosexual or gambler? Pure and simple; STOP DOING THOSE THINGS AND BEGIN LIVING PURE LIVES.
Jesus said, "Whosoever will come after Me, let him deny himself, and take up the cross, and follow Me. For whosoever will save his life shall lose it; but whosoever shall lose his life for My sake and the gospel's, the same shall save it."  (Mark 8:35-36)
OUR LORD JESUS DEMANDS AND REQUIRES A TOTAL COMMITMENT FROM US
Our Lord requires a full commitment and consecration from us, for Him to trust us with His authority, gifts and power! He does not want to be secondary thing or put out of our everyday living and decision making. He wants to be and take the first place in our lives forever.
GOD MUST COME FIRST IN OUR LIVES
He must take center stage in our lives so that our lifestyle will be pleasing in His sight, and effective in our relationship to others!
Jesus, Who is our grand example, "set His face" to go to Jerusalem where He knew He would die upon a rugged cross and become "a curse for us", in order to purchase our salvation! (Galatians 3:13)
Apostle Paul said, "What mean ye to weep and to break mine heart? For I am ready not to be bound only, but also to die at Jerusalem for the Name of the Lord Jesus."  (Acts 21:13)
Again he stated, "For I am now ready to be offered, and the time of my departure is at hand. I have fought a good fight, I have finished my course, I have kept the faith."  (2 Timothy 4:6, 7)
The great apostle was totally dedicated to Jesus Christ. His life was consecrated to His Gospel!
Martin Luther emphasized: "I live as though Jesus Christ was crucified yesterday, arose today and is coming again tomorrow."
The great leader of the Protestant Reformation was consumed with the Gospel of Jesus Christ, and that is why God used him so mightily to bring back the simplicity, truth, purity and power of Christ's Gospel to a corrupt, idolatrous and backslidden Church!
This is the commendation given by the leaders of the Primitive Church regarding the preachers they sent out: "These are men that have hazarded their lives for the name of our Lord Jesus Christ."  (Acts 15:26)
WE CAN CONSECRATE OURSELVES TO GOD BY LIVING A 'DISCIPLINE CHRISTIAN LIFE'
A proper way to consecrate ourselves to God is through a 'Disciplined Christian Life'! Daily Bible Study, Prayer and Fasting are good way to humble ourselves before God and to become consecrated wholly to God and His Kingdom!
GOD CALLS US TO SERVICE
Jesus declared, "Go ye into all the world, and preach the gospel to every creature. He that believeth and is baptized shall be saved; but he that believeth not shall be damned."  (Mark 16:15)
The paramount duty of the every Christian is to communicate the gospel to our fellowmen by our chaste lifestyles, honesty, compassion and wholesome outlook.  We are "saved to serve"!
JESUS SAID, "THOU SHALT LOVE THE LORD THY GOD WITH ALL THY HEART"
Jesus said, "Thou shalt love the Lord thy God with all thy heart, and with all thy soul, and with all thy mind. This is the first and great commandment. And the second is like unto it, Thou shalt love thy neighbor as thyself. On these two commandments hang all the law and the prophets."  (Matthew 22:37-40)
The only road to true happiness is going God's way, walking the Gospel road, by loving God and loving our neighbors as ourselves!
Let us always follow the Golden Rule:
"Do unto others as you would have them do unto you."  (Luke 6:31)
TRUE BELIEVERS OF CHRIST ARE CONCERNED ABOUT THE SPIRITUAL, EMOTIONAL & PHYSICAL NEEDS OF OTHERS
Born again Christians automatically seek the "high road of life" after an encounter with 'Jesus Christ'. We are concerned about the needs of others, spiritual, emotional and physical, because our lives have been changed: "Therefore if any man be in Christ, he is a new creature: old things are passed away; behold, all things are become new."  (2 Corinthians 5:17)
Angelic beings brought the message of Christ's victory to the disciples, at the empty tomb on that first resurrection morning. They said, "Come and see the place where our Lord lay, and go and tell His disciples…" (Matthew 28:6, 7)
It is incumbent upon all Christians to experience God's blessings through Christ, and then to "go and tell" others the good news that there is hope for our nation and there is hope for our world today!
AND THAT HOPE LIES ONLY IN THE PROCLAMATION AND RECEPTION OF THE GOSPEL OF JESUS CHRIST!
The Bible says, "And this gospel of the kingdom shall be preached in all the world for a witness unto all nations; and then shall the end come." (Matthew 24:14)
WE ARE TO BE THE HANDS AND FEET OF CHRIST OUR LORD
Christ has no hands but our hands, to do His work of preaching and spreading His Gospel to the ends of the earth. Let us be about our Father's business!
Christ is calling us all to communicate, share, spread, dispense, articulate and live His Gospel before this wicked world, so that many more will be saved before it is too late. Evangelism and Evangeliving must go hand in hand to make Jesus Christ Known and received by many.
This also includes paying our tithes and giving offerings to God's work. Let us remember the words of our Lord Jesus: "It is more blessed to give than to receive." (Acts 20:35)
GOD'S WORD SAYS, "GIVE, AND IT SHALL BE GIVEN UNTO YOU"
He also stated: "Give, and it shall be given unto you; good measure, pressed down, and shaken together, and running over, shall men give into your bosom. For with the same measure that ye mete withal it shall be measured to you again."  (Luke 6:38)
Sir Winston Churchill said, "We make a living by what we get, but we make a life by what we give".
My question to us all is: Are we doing our share to spread the Gospel through our giving?
Or are we guilty of spending too much time and money pampering ourselves when multitudes are going to a 'Christless Eternity' because no one has shared the Gospel of Jesus Christ with them?
William Penn stated: "If there is any kindness I can show, or any good thing I can do to my fellow human being, let me do it now, and not deter nor neglect it. I shall not pass this way again."

Francis of Assisi said, "Preach the gospel everyday and if you must use words, It is in giving oneself, one receives; it is in forgetting oneself, that one is found; it is in pardoning, that one obtains pardon". He taught his students that there is no point in, "walking somewhere to preach, unless you can preach while you are walking"!
SEEK YE FIRST THE KINGDOM OF GOD
Jesus said, "But seek ye first the kingdom of God, and His righteousness; and all these things shall be added unto you." (Matthew 6:33)
The Bible instructs: "But sanctify the Lord God in your hearts: and be ready always to give an answer to every the man that asketh you a reason of the hope that is in you with meekness an fear:" (1 Peter 3:15)
"Charge them that are rich in this world, that they be not high-minded, nor trust in uncertain riches, but in the living God, Who giveth us richly all things to enjoy; That they do good, that they be rich in good works, ready to distribute, willing to communicate; Laying up in store for themselves a good foundation against the time to come, that they may lay hold on eternal life." (1 Timothy 6:17-19)
God loves you, my friend. He has purchased your total salvation through the death of His Son Jesus Christ Who paid for our sins with His pure and perfect blood!
The Bible declares that He not only died for our sins on the cross, but arose from the dead for our justification! (Romans 4:25)
Here is our Lord's invitation to you: "Come unto Me, all ye that labor and are heavy laden, and I will give you rest."  (Matthew 11:28)
God Bless You All
Amen.
To learn more about Prayer lifestyle click the link below
Center For World Prayer Command
Recent Sermons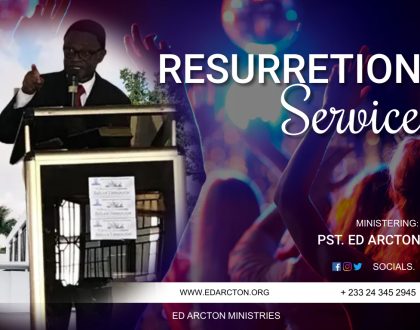 April 11, 2023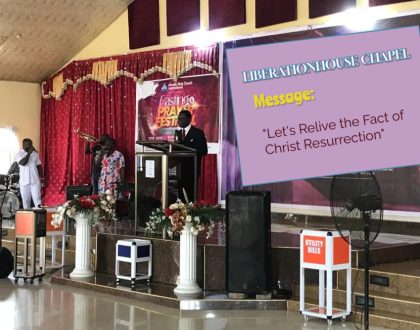 April 11, 2023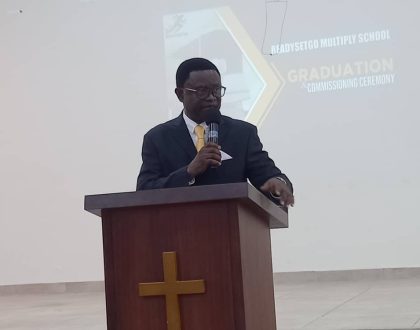 October 09, 2022